Colt Online & service assurance
Colt Online is our web-based customer platform, available 24/7 which you can use to manage your services with us. An intuitive and easy to use interface, you can access it via online.colt.net
Haven't got an account yet? Click here to register.
How can Colt Online help me manage my technical requests?
Managing your technical support requests
The quickest way to raise a technical support request* is to log into Colt Online and raise a Technical Support ticket. Your request is immediately logged, a reference assigned and any Service Level Agreement will be applicable from that moment. You are also able to efficiently access status updates on the ticket progress until its closed.
(*) main technical support requests are:
Log a new incident
Close an incident
Escalate an incident
Request reason for outage (RFO)
Request incident report (IR)
Track Colt's Planned works
Alternatively, you can call or email local Support team via a dedicated contact number or email address. Details can be found at www.colt.net/support/.When you contact us we will need the following information:
For new incidents or technical requests - your circuit reference number, order number or service This can be found on your Service Handover document or under your Services in Colt Online.
For existing incidents - the ticket number that you received when raising the ticket in Colt Online or when calling our Service Desk teams.
See your tickets in Colt Online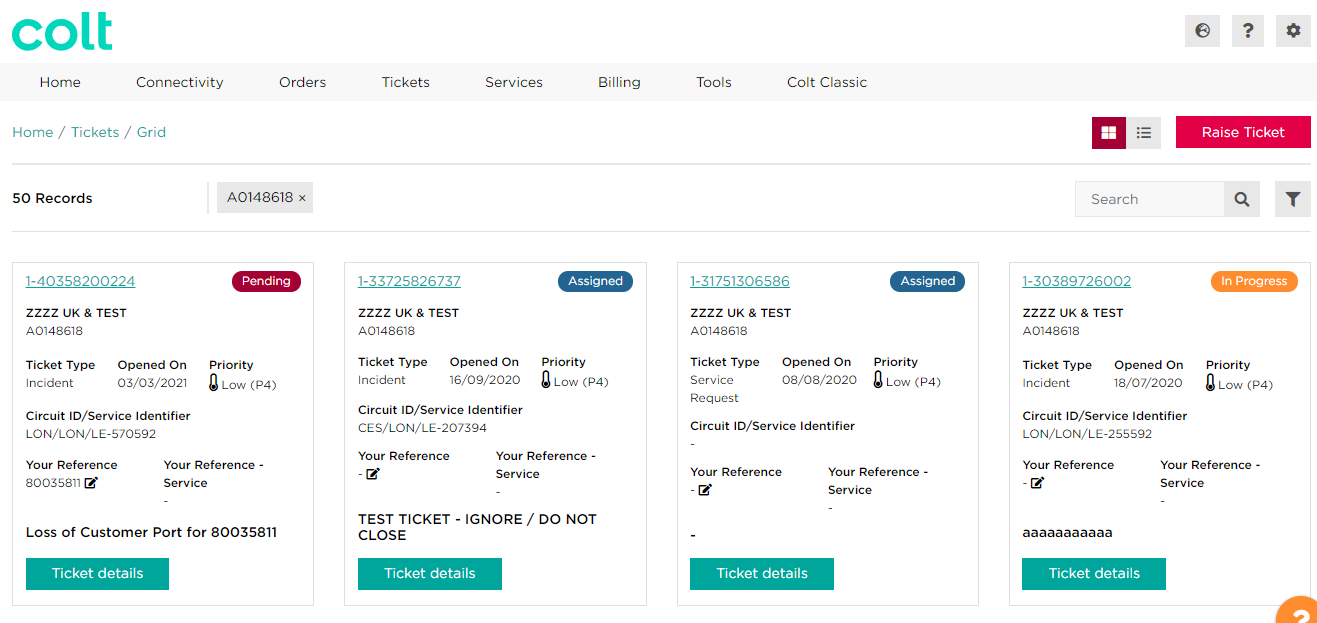 Managing your escalations
We understand that there may be times when you wish to escalate an incident. Therefore, within Service Assurance we provide you with a five-level escalation matrix, we will always have someone available at all levels.
Incident Escalation process
All escalations must be made via phone (escalations made via e-mail will suffer delays as individual mailboxes are not monitored 24/7)
Enter your incident reference when calling us to help with routing your escalation Our ticket format is 1-0123456789. The valid format to enter within the Interactive voice response (IVR) is: 10123456789 (disregard \"-\")
Escalations must be made sequentially from level 1 - 5
Peer to Peer escalation is mandatory
Level 1-5 Colt escalation contact matrix

in the event that an escalation is required or follow-up with an existing escalation, please call:

Level 1

Team Leader

+44 203 481 7007

Level 2

Incident Manager

+44 203 481 7008

Level 3

Senior Manager

+44 203 481 7009

Level 4

Director

+44 203 481 7010

Level 5

VP

+44 203 481 7011

and enter your ticket reference
Note: In the event of a Colt MNI the crisis escalation process may be invoked and supersede this process.
When Colt experiences a Major Network Incident (MNI) potentially affecting multiple customers the standard Colt process to manage such an incident will be invoked.This process ensures that you and all our customers are receiving the same information, coming directly from the Resolver Group via the assigned Incident Manager in a timely manner.The MNI process is defined as:
Colt's Network Operating Centre (NOC) proactively detects an event, defines the impact and creates a parent ticket to manage the MNI
A Colt Incident Manager is assigned to coordinate resolution and manage all customer communication
Colt's Incident Manager, alongside Colt's NOC and other resolution teams will work towards repairing the MNI as quick as possible
All updates during resolution of the MNI are posted into the parent ticket - Any ticket you raise which is related to the current MNI will be linked to the parent ticket
Our CRM system cascades updates to your open ticket linked to the MNI parent ticket which can be seen in Colt Online
Your mailboxes must be monitored during the MNI to receive Information from the incident manager.Your contact email addresses must be correct so you're able to receive these updates - these can be kept up to date in Colt Online in the "contact management centre".
Managing changes to your service
Change Management - our planned changes
So we can maintain the highest levels of service availability for you, it is sometimes necessary for us to carry out planned maintenance on our network. When this occurs, we will notify you of any possible or likely impact to your services through an email from PlannedWorks@colt.net. This includes maintenance done by our third party providers or Other Licensed Operators (OLOs).All proposed works are reviewed and approved at Change Management level, with the aim to advise you of the event at the earliest possible opportunity. We provide a minimum 10 days notice regarding planned changes to customer services.An Emergency change is undertaken as and when required.
You can find all planned works related to your service in the Colt Online Planned work calendar
Change Management - your planned changes
Should you need to plan any operational work likely to impact your Colt service, please inform us 20 working days in advance by raising a planned / maintenance works service request in Colt Online (see below) so that we are aware of the maintenance and can assist you in the operation when relevant.
You will be asked for your customer number (OCN), the service impacted, Start and End date/time and hour of your planned work, and the service owner\'s details in your organisation.
If you need any further support please contact us.